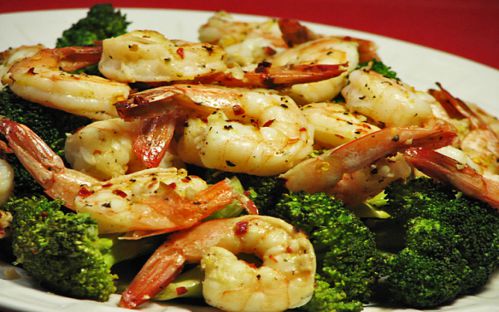 This evening meal contains a good source of fibre, protein, antioxidants and lots more.
Prawns, vegetables and a bit of seasoning, what a great combination.
The fibre content helps to keep you feeling full so you eat less and helps with weight loss.
Ingredients
450g large prawns, peeled and deveined.
900g broccoli florets.
4 tbsp coconut oil.
1 tsp whole coriander seeds.
1 tsp whole cumin seeds.
1/2 tsp Himalayan salt.
1 tsp freshly ground black pepper.
1/8 tsp hot chilli powder.
1 lemon zest (from 1 large lemon).
Lemon wedges, for serving.
Method
Preheat oven to 220°C.
In a large bowl, toss broccoli with 2 tbsp oil, coriander, cumin, 1/4 teaspoon salt, 1/2 tsp pepper and chili powder.
In a separate bowl, combine prawns, remaining 2 tbsp oil, lemon zest, remaining salt and pepper.
Spread broccoli in a single layer on a baking sheet. Roast for 10 minutes.
Add prawns to baking sheet and combine with broccoli.
Roast until prawns are just opaque and broccoli is tender and golden around edges, about 10 minutes more.
Serve with lemon wedges, or squeeze lemon juice all over prawns and broccoli just before serving.
Slimming down with tasty and nutritious meals
This is an easy to prepare healthy meal that can help reduce cholesterol. Great tasting, nutritious dinners like this along with treatments from The Slimming Rooms can be a great way to get the healthy body you deserve.
Our fat loss treatments provide a quick and easy way to get rid of stubborn fat from your body and a healthy diet can help you get quicker, long-lasting results.
Summary
Recipe
Published on
Preparation time
Cooking time
Total time
Average rating
Based on 2 Review(s)