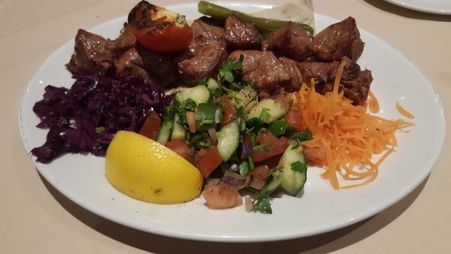 Grass-fed lamb is an excellent source of vitamin B12 and a very good source of protein, selenium and niacin. It is also a good source of zinc and phosphorus.
Add salad to the mix and you increase your intake of vitamins and minerals, essential nutrients to aid weight loss.
Ingredients:
400g of organic lamb, cut into chucks.
4 tbsp coconut oil.
2 tsp ground cumin.
1 tsp chilli flakes.
3 tbsp freshly chopped oregano.
Salt and freshly ground black pepper to season.
1 large onion, sliced.
2 tbps tomato paste.
2 tbsp red wine.
3 large tomatoes, diced.
1/2 cucumber.
1/2 red chilli.
1-2 tbsp lime juice.
1 tbsp extra virgin olive oil.
2 tbsp coriander, chopped.
1/2 garlic clove, crushed.
Method:
First start by seasoning the lamb chucks, into a bowl combine melted coconut oil, cumin, chilli, oregano, salt and pepper, not forgetting the lamb. Rub the ingredients into the lamb, cover and leave to marinate in a fridge for 30 minutes or so.
Meanwhile make the salsa, dice the tomatoes, onion and cucumber. Finely chop the garlic and red chilli and mix everything together in a bowl with the juice of the lime and olive oil. Season with salt and pepper, stir in a little of chopped coriander and set aside until later.
Into a large frying pan over a medium heat melt 2 tbsp of coconut oil, add onions and cook until lightly brown.
Add the marinated lamb to the cooked onions and brown the meat.
At this point reduce the heat, add tomato paste and red wine, and stir well.
Combine the sliced tomatoes, season with salt and pepper, reduce heat to low and cook for a further 10-15 minutes.
To serve, divide the lamb between some plates add the salsa with some salad and garnish with lemon.
Slimming down with tasty and nutritious meals
This is a great healthy dinner. It is filling and will help with muscle development and keeping your body full of good nutrients.
Our fat loss treatments provide a quick and easy way to get rid of stubborn fat from your body and a healthy diet including green tea can help you get quicker, long-lasting results.
Summary
Recipe
Pan fried lamb with tomato and cucumber salsa
Published on
Preparation time
Cooking time
Total time